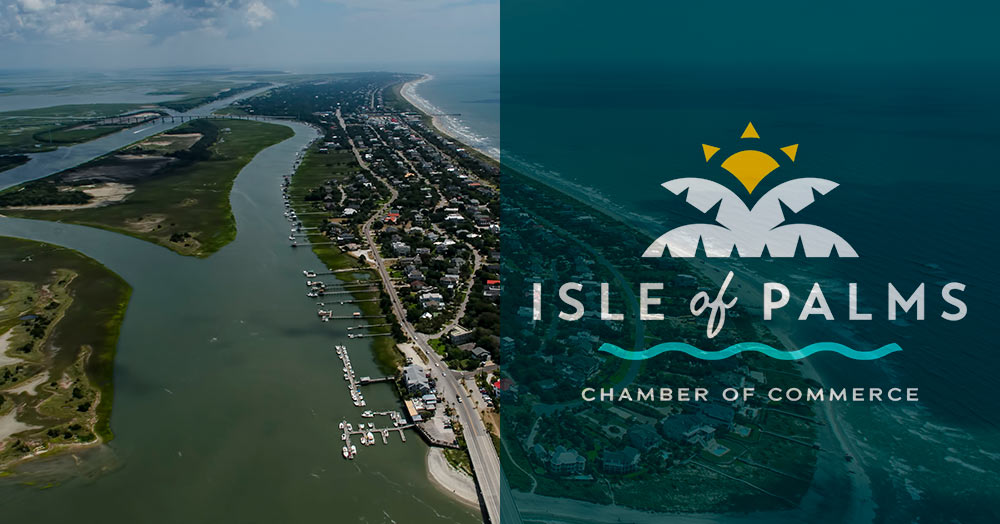 It's been called an attraction to local business, a boon to local hospitality and a way to connect to local residents. On Jan. 28, 2022, barely six weeks after their initial meeting, a handful of business owners on the Isle of Palms launched a new Chamber of Commerce—not only to have a singular voice in local government but to create the most perceptible way of branding the island's distinct ecosystem to visitors and businesses.
So far, the young Chamber is not only gaining support and members but could set new standards for how Charleston County and other parts of the Lowcountry can rebound the tourism industry in the wake of COVID-19.
"Our economy on the Isle of Palms is unique—mostly hospitality driven and an international destination," said First-Year Chamber President Katrina Limbach, co-owner of the Isle of Palms Beach Chair Company. "And the critical idea in creating this new Chamber is to have something in place in which we can balance sustainable tourism for any time of year."
For example, the Isle of Palms measures only 4.4 square miles with a current population of around 4,400. There is currently no viable way for the island to grow any more land. But Limbach pointed out that the island's population "quadruples during three months of the year," and that visitor demand for the island's vacation rentals, hospitality services and restaurants keeps growing every year.
"We want visitors to come here, but what's been missing is something to sustain our island charm," she said. "If we just grow too big and become overrun and crowded, residents will leave and visitors won't return year after year."
The president emphasized that the new Chamber of Commerce has a rare opportunity to serve not just as a local business network, like most Chambers do, but as a hospitality conduit and go-to guide for all of the island's visitors.
"One of my first-year goals for us is to create a professionally developed website that highlights all that the island has to offer to neighbors and guests," Limbach said. "And to do that, we have to have members."
In its first two months, the new Chamber signed on 20 members among that population of 4,400. To put these numbers into perspective, when the Columbia, S.C. Chamber of Commerce was created in 1902, it began with 192 members among a population of around 21,000. This means that for every 4,400 people, the Columbia Chamber had 40 members— not that many more than what the Isle of Palms Chamber began in a considerably smaller area.
"Now we have 1,200 members across the state's most populous city," said Carl Blackstone, Columbia Chamber president and CEO. "So, the Isle of Palms Chamber's initial membership numbers are good for a community that size."
Limbach added that since opening for membership on April 26, interest in the IOP Chamber has been growing daily.
"Our goal is to reach a minimum of 50 members by the end of 2022," she said. "And we believe we will exceed that number."
Not surprisingly, the Chamber's initial membership drew heavily from the industries of hospitality and tourism, with a lot of attention from both construction and home-based businesses. And in the wake of the pandemic, Limbach and other first-year board members are looking to serve as a right arm to both local governments and individual businesses to help re-shape the future of this small but highly sought-after vacation spot.
"It is very important for us to advocate for responsible tourism– not slamming the island full with tourists to the point where it can't function well," said Scottie Frier, first-year IOP Chamber secretary and talent buyer with The Windjammer.
Limbach indicated that all current members are volunteers— no one, including herself, is getting paid for their time or effort to see the new Chamber succeed.
"[This] goes to show what a great business community we have here," she said. "It's almost mind-boggling to me that this kind of Chamber hasn't happened before now, especially considering how far we have already come without any of us originally intending to do this."
The roots of the effort began in late 2021 as a simple email to gather local business owners. In almost no time, the idea of a Chamber quickly caught on, and since the group's first roundtable meeting on Dec. 7, 2021, it has turned into an official 501(c)6 organization with a board of directors.
"We opened for membership on April 26 and, as of May, have had six meetings," Limbach said. "And because we are a hybrid Chamber of Commerce and Destination Marketing Organization, we have the ability to create a brand to reflect such distinctness for Isle of Palms."
Other first-year Chamber goals include:
Partnering with the City of Isle of Palms and other nonprofits for events. 
Partnering with the City of Mount Pleasant for beautification projects within the island's commercial district.
Balancing sustainable tourism.
Hosting networking events within the Chamber and with other local chambers.
"Authentic branding and positive constructive messaging to our neighbors and guests has been an unmet need of the island, unfortunately, to our detriment," Limbach said. "We're hoping to fill that void with welcoming positivity and connection. Obtaining an engaged membership is a top priority."
She has already taken a step in that direction by co-founding the IOP Cleanup Crew, a grassroots organization focused on keeping South Carolina coasts clean through weekly beach sweeps, education and outreach.
Even though this focus is different than the new IOP Chamber, both are similar in one respect: wanting to re-make, and keep, this part of the Lowcountry as physically attractive to visitors and residents as its longstanding reputation.
"Isle of Palms is such a unique place with a diverse community of stakeholders: residents, visitors and businesses," Limbach said. "As an island resident and business owner, I know first-hand that balance is the key to a happy and successful quality of life for all three. And as a Chamber, we are focused on preserving and sustaining a healthy economy."
By L. C. Leach III