Making Memories: Start Your Trip at the IOP Marina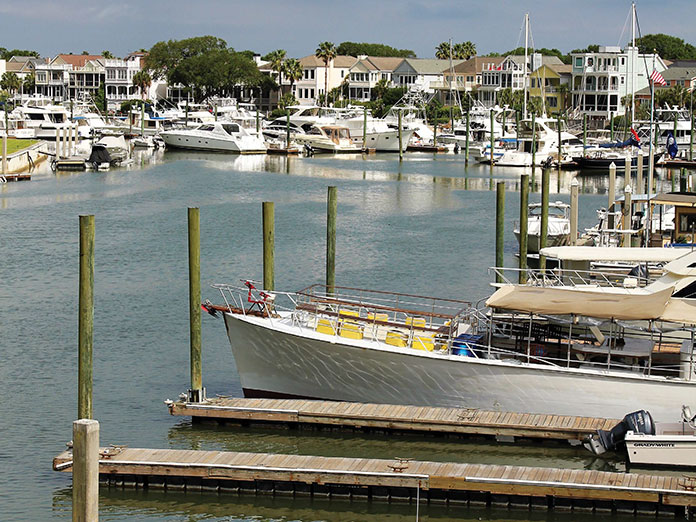 An idyllic summer trip to the Isle of Palms is the source of countless nostalgic memories for both young and old: the smell of salt air seducing your nostrils; the feel of silky sand or sticky pluff mud beneath your feet and between your toes; innovative and not-so-well-thought-out sand castles; floats; fishing; boating; beach games; watersports; and more.
Every summer, when the water warms, school is out and vacations are on the sun-splashed horizon, the barrier island offers the opportunity to add to the nostalgia with new memories. When it's time to head toward the ocean on the IOP Connector, across Breach Inlet from Sullivan's Island or aboard a boat, your new adventure should begin with a trip to the Isle of Palms Marina.
Owners Brian and Beth Berrigan modeled the Marina Market to cater to boaters and children, similar to the marina Brian remembers fondly from his childhood.
"I grew up on Hilton Head Island, but we would spend our summers at my grandmother's house in Niagara Falls," Brian explained. "I have great memories riding big wheels to the marina there. It's the first place we would go. The marina here creates similar memories of family fun for kids today, and the parents really enjoy it, too."
The Marina Market offers a wide range of beach and fishing supplies, bait, tackle, a variety of children's beachwear, floats and toys, as well as the most popular brands of clothing, accessories and gear for adults.
"This is not just a place to get your bait and tackle," Brian said. "We carry quality brands like Yeti, Costa Del Mar, Columbia Sportswear, Rainbow Sandals, Zep-Pro, Lilly Pulitzer, Escapada, Southern Lure, Southern Tide, Salt Life, AFTCO, Croakies and more. We've got what you need whether you're here for a day on the water or a week at the beach."
True to its slogan, the Isle of Palms Marina really is "more than a marina – it's a way of life." It is the only public marina on the Isle of Palms, and it's much more than simply short-term dockage and a three-lane boat ramp. In addition to the Market, the marina offers kayak and paddle board rentals, powerboat rentals, environmental tours, inshore and offshore fishing charters, dolphin-watching harbor tours, trips to Capers Island, custom boating excursions and sunset cruises. If you're hungry, Morgan Creek Grill's incredible views of the Intracoastal Waterway provide a stunning backdrop for fresh seafood and live music. If you feel like getting off the island for a meal or an evening out, the Isle of Palms Marina can help, too.
"A little-known service we offer is to take people to Shem Creek by boat," Brian explained. "A boat arrival for dinner is a great way to start the evening, and many people choose to be dropped off there and take a cab back after dark. We're happy to offer drop-off and round-trip options – those interested can call and schedule what works best for them."
The Isle of Palms Marina is a hub for locals and vacationers alike and a one-stop-shop for anyone hoping to embrace the island's great outdoors, no matter their age.
"If you make the kids happy on vacation, you as a parent are going to have a good vacation," Brian laughed. "Otherwise, it'll be a long week. Luckily, the marina has supplies and activities to help make every visit memorable."
The Isle of Palms Marina is located beyond the gates of Wild Dunes and at mile 456.5 on the Intracoastal Waterway. To learn more, visit iopmarina.com or drop by in person and let your Isle of Palms adventure begin.
IOP MARINA BUSINESSES
Coastal Expeditions
Marina Market
Morgan Creek Grill
Barrier Island Eco Tours
Tidal Wave Watersports
Salt Works Catering Co.