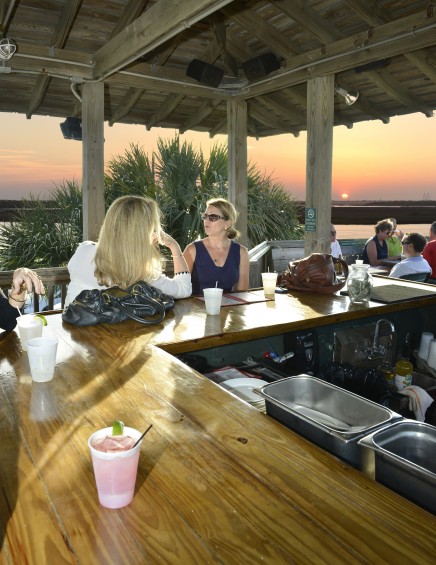 Why would we live in the Isle of Palms if we didn't ever dine outdoors? It's one of the perks we enjoy during the warmer months (or even the not-so-warm months, thanks to our mild winters). The best part is that Cullen and I did the hard work for you, visiting each spot and researching the best cocktails, menu items and places to sit. Now all you need to do is gather friends and family, make a reservation and soak it all in.
The Boathouse
Denise: Happy hour with Cullen is usually enough of an occasion, but add in the views of Breach Inlet at the Boathouse and it's worthy of a party. We found ourselves at "The Crow Bar," enjoying two of the restaurant's signature cocktails: Sunset Punch and the Boat Breeze, each made with plenty of rum to get a post-beach afternoon started the right way.
But just when I thought the drinks and views were my favorite part, we sampled my favorite dish of the waterfront dining experience: scallop risotto, which was so scrumptious it practically made Cullen late to pick up his puppy, Journey, for a vet appointment.
"Our oysters are the freshest; our calamari and shrimp are excellent as well," emphasized manager Michael Germain.
With all that yummy seafood getting cooked, the Boathouse changes out its cooking oil daily, selling it to locals to be converted into bio-diesel.
"We're 98-percent local," Germain said. "We're all about sustainability here."
Cullen: The Boathouse on the Isle of Palms is an experience. The restaurant's unassuming layout attracts both the casual after-beach beer drinker and the foodie searching for an intimate dinner. My view of Breach Inlet, coupled with a Sunset Punch and a plate of freshly fried local seafood, enabled me to embody the essence of the Isle of Palms.
We shared stories with restaurant manager Michael Germain, who kept us interested with fun facts about the restaurant, like that the dolphins of Breach Inlet will occasionally beach themselves on The Boathouse beach while chasing after bait fish. It all made sense when I maneuvered my fork, filled with sea scallops, prosciutto, asparagus and parmesan risotto, into my mouth: My life had come full circle, and it was a pan-seared scallop.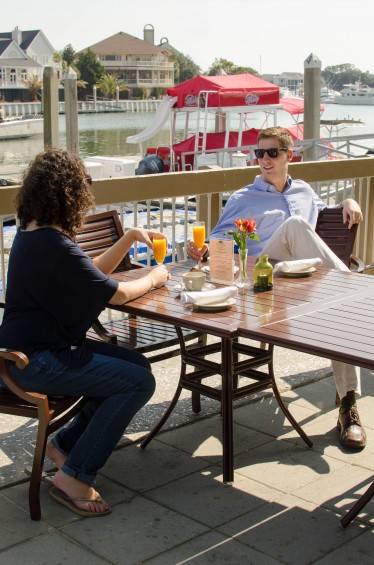 Morgan Creek Grill
Denise: I once took a trip to Goat Island. When I got off the boat, I found myself at Morgan Creek Grill, which indeed seems to be the perfect place to have a drink after a boat ride or a stint on the Isle of Palms.
Lunch is served on the upper deck, according to Kristy Kinney, director of events and promotions, and, while dinner is served in the dining room only, there's a great happy hour menu to choose from at any of the three bars. The Palmer Lightning – a simple but delicious concoction of Firefly vodka and lemonade – is just the thing to sip.
People staying for dinner will want to order the fresh fish with collards, grits and mango salsa, according to Kinney. And snackers can count on $5 small plates during happy hour.
"Patrons can dock their boats on our slips for free," said Kinney. "A lot of golfers from the Wild Dunes course come here for happy hour, too."
Cullen: The sun was shining and a pleasant ocean breeze was drifting up the coast that late March afternoon. Below the roof deck at Morgan Creek Grill, kids played cornhole while enjoying their spring break. I gazed out at the Intracoastal Waterway, which separates Goat Island from the Isle of Palms.
"This is gorgeous," I told Denise.
Thirsty, I drew from my "Lowcounty Lemonade," a provocative mixture of Cathead Honeysuckle vodka, pink lemonade and champagne.
Whether you come from the Dunes West golf course or you are idling in from a morning fishing trip, Morgan Creek Grill is the ideal watering hole for good food, cold drinks and a relaxing atmosphere.