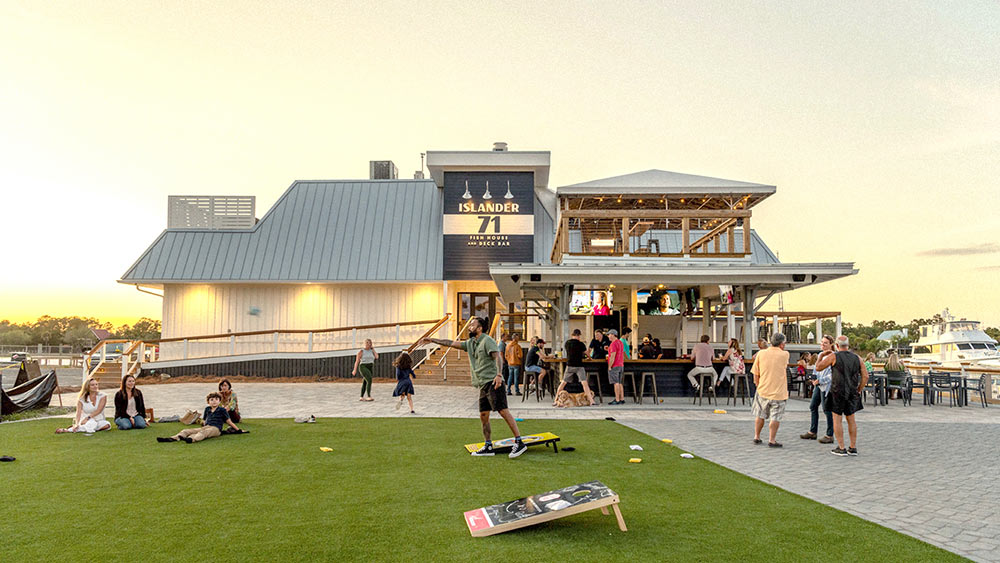 For over five decades, the Isle of Palms Marina has been a hotspot for sandy feet and sun-kissed skin. What started by the Finch family as a boat launch and marina, slowly evolved into a local hangout with a little restaurant where fishermen could kick off their flip-flops and mingle. During the glory days of Isle of Palms in the '70s, Wild Dunes began to put the small island's name on the map for tourists. The marina's restaurant began to attract people eager to get a glimpse of the local spirit and beach-bum lifestyle.
Dave and Chrissy Lorenz, along with their partner Jon Bushnell, have lived on Isle of Palms for over 15 years and felt that the island needed to bring back that original charm. The group wanted to create a restaurant that would transport visitors back to the good ol' days. Capitalizing on the picturesque view of the Intracoastal, Islander 71 aims to be a family-friendly gathering place where the simple island lifestyle is appreciated.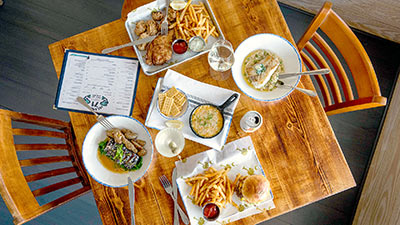 Dave Lorenz said, "We wanted to bring it back to the glory days of Isle of Palms in the '70s, and we chose the number 71 in particular because that is the year my wife and I were born." The restaurant creates a place for both locals and tourists to bond over their love of the views and culture that make up the island. As the only restaurant in the area directly on the Intracoastal, we wanted to show off the view, allowing each table to have a view of the water."
With its outdoor cornhole and bar area, indoor restaurant seating and rooftop bar, Islander 71 has a place for families tying up the boat to recharge after a day on the water and families looking for a nice dinner on the island under the sunset.
Lorenz added, "We wanted to keep the menu simple. It is exactly what you would want when you go to a local seafood restaurant."
The restaurant features old island recipes that Lorenz gathered from family and friends to highlight Lowcountry seafood. One recipe that Lorenz is especially excited about is the crab dip that was originally created by a family friend, Betty Jane, and has been passed down for decades.
Islander 71 aims to create the authentic experience of the Isle of Palms of yesteryear, and Lorenz has a unique idea on how to incorporate this into the decor. As of now, there is only one picture in the entire restaurant. This picture shows Sugar Hill, the fourth resident of the island, at the beach some 50 years ago. As years go by, Lorenz's vision is to accumulate pictures from locals of themselves or their families in the '70s on Isle of Palms. This plan allows Islander 71 to be a place to look back at the original fishermen who put the marina on the map and carry on their legacy in the spirits of generations to come.
By Madison Broach