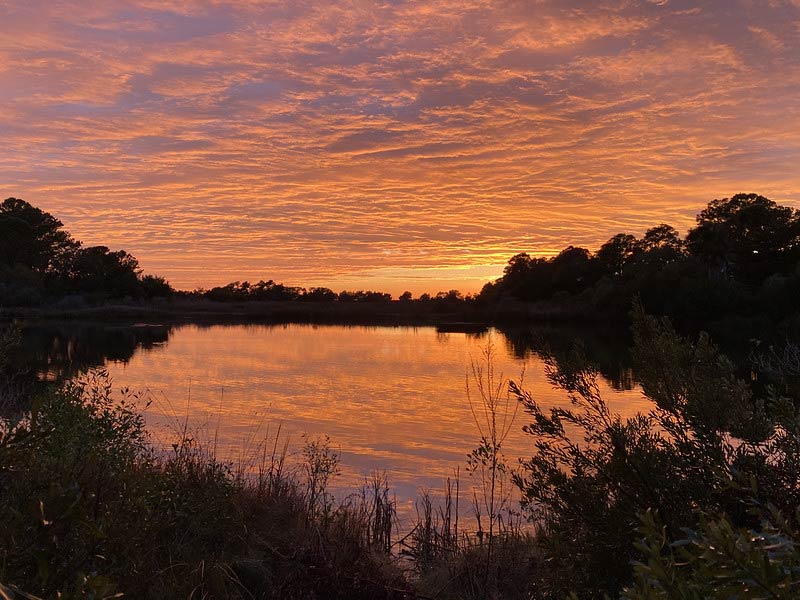 Dewees Island is just a 22-minute ferry ride from the Isle of Palms, but the two communities are worlds apart in their philosophies and accessibility.
Isle of Palms offers a residential and commercially developed destination dotted with restaurants, bars, shops and accommodations, as well as the typical seasonal drawbacks of popular beach communities: traffic congestion and the din of cars and crowds. All this commotion makes daytime wildlife encounters infrequent, and the light pollution obscures night sky views.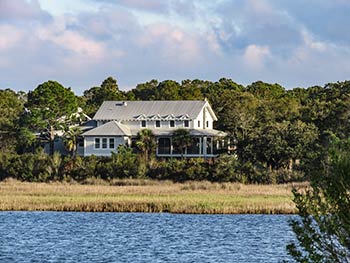 Across the intracoastal waterway lies Dewees, where the entire 1,200-acre barrier island is under a conservation easement with the state. A homeowner's covenant limits construction to just 150 homesites with no paved roads, and residents travel by electric golf carts, as gas-powered vehicles are banned. Life moves slower — and not just because of the island's 17-mile-per-hour posted speed limit.
Only 5% of Dewees Island can be developed; commercial enterprises are prohibited, and neither streetlights nor car lights shine at night, creating ideal stargazing conditions.
To see Dewees, you must be a resident or homeowner's guest.
One warm, sunny morning in early autumn, I was afforded a rare glimpse into life on Dewees.
Dewees Conservation Ethos: Working with Nature
Judy Fairchild, a homeowner since 2003, served as my expert guide to Dewees, which comprises part of 60 miles of protected coastline encompassing Capers and Bulls Islands at the adjoining Cape Romain National Wildlife Refuge.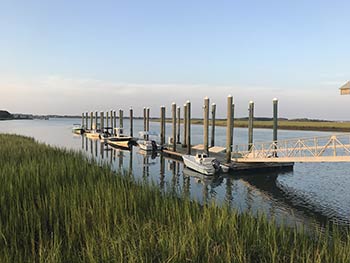 Fairchild showed me one of Dewees' community gathering hubs, the Landings Building, which houses the nature center and the post office. Environmental Program Director Lori Sheridan Wilson runs the nature center along with volunteers. Summer interns stay on Dewees and are shared between Dewees and Cape Romain. The center features engaging displays like a pygmy sperm whale skeleton, which washed up on Dewees in 2001, educational exhibits on environmental sustainability and a small aquarium.
Photos of the island's celebrities captured on island trail cameras decorate one wall: bobcats, coyotes, deer, otters and alligators. On another wall, homeowners mark locations of wildflower and animal sightings using an interactive map of Dewees. Pre-COVID-19, the center hosted school groups, and summer volunteers led bird walks, gave crab and fish sustainability lessons and educated people about sea turtle nests.
"Our goal is to educate our own residents and their guests about how to responsibly interact with their environment," explained Fairchild, a South Carolina master naturalist and photographer who creates virtual tours of Dewees' wildlife on her website, naturewalkswithjudy.com. "You can only plant native plants in the ground. There are no lawns, no irrigation. It's a community that's built around a lifelong appreciation of the environment."
Sheridan Wilson explained how Dewees' diverse ecosystems include maritime forests, freshwater wetlands, saltwater marshes, intertidal beach and a dune system, which provides wide, connecting corridors for wildlife movement across the island. The island's conservation ethos explores how humans can appreciate their ecosystem role and co-exist with wildlife without encroaching upon habitat.
Only 7,500 square feet of acreage can be disturbed at each homesite, and homes must be integrated into the forest canopy. There are certain requirements for elevation and using sustainable building materials and colors that blend in with the forest, commented Sheridan Wilson, a Mount Pleasant resident who also serves as Dewees' Architectural Resource Board coordinator. She works with contractors and homeowners on siting homes appropriately within the landscape.
"This community is an experiment looking at how people can develop and live on a barrier island sustainably," she added.
Currently, there are 70 homes with one home under construction. "Building has its challenges, but it's completely worth it," commented Fairchild. "You design your house for the home site, planning for breezes, shade and views."
Living Life Outdoors
Some might think growing up on a barrier island would get boring, but 11-year-old Ian, a Dewees' resident, avid swimmer and junior turtle team member, loves it. "It's very cool. We get to go to the beach every day. And to the pool."
Along with Dewees' other children, Ian rides the ferry twice daily every weekday to attend school.
Fairchild raised her children on Dewees, where they grew up spending most of their time outdoors. "My kids could all bring home dinner by the time they were 5," she recounted. "The beauty of Dewees is you can say, 'go outside and play.'"
Resident Carey Sullivan's Dewees' introduction came in 2004 when her in-laws bought a share of a house. She and her husband Bill were living in northern Virginia and would vacation on Dewees Island with their 2- and 4-year-old children. In 2019, the Sullivans began pondering their next chapter. They bought a house on Dewees that August and spent the pandemic on the island. When their daughter graduated high school, they made the full-time move to Dewees, where they now work remotely.
"We're just happier here," proclaimed Sullivan. "We walk the beaches with our dogs and see the sunrise every morning." She added that whenever her husband needs a respite between meetings, he goes fishing. "And that's a really, really good way to live," she added.
Immersed in Nature
Tiny Dewees received big attention this summer courtesy of "The Islanders," a novel co-written by Angela May and New York Times best-selling author Mary Alice Monroe, both East Cooper residents. The book follows 11-year-old Jake, who spends the summer on Dewees while his father recovers from severe injuries sustained while serving in Afghanistan. It documents a journey of loss, friendship and nature's healing power.
Monroe called Dewees the "epitome of living in a natural landscape," and a place dear to the authors' hearts. "We love immersing ourselves in the healing power of nature here on Dewees," said Monroe. "There is something about these untouched landscapes that are so inspiring."
Fairchild transported Carey and me via golf cart to some of her favorite Dewees' nature spots that appear in the novel, including the "corner," a birding hotspot where we glimpsed roseate spoonbills adorned in brilliant pink plumage, along with wading wood storks, egrets and herons. On another day, one might spot Dewees' nesting pair of bald eagles, who have built their home on an osprey platform.
Fairchild cruised the island's loop road, passing wetlands impounded in the late 1940s when Dewees was used as a hunting preserve. These waterways teem with fish, shrimp and crab, providing islanders fresh seafood dinner options. Ducks migrate through in the winter. Community canoes and kayaks are accessible to explore a nearby pond canoe trail.
Dewees presents a picturesque setting boasting beautiful, lightly touched beaches, but some routine tasks do require more planning. Residents tote coolers when transporting their groceries, and online package delivery is a way of life. "You group your in-town activities for efficiency, and you get to come home to all of this unspoiled nature," explained Sullivan.
As if to illustrate her point, along a beach access path called Needlerush Walk emerged an extensive field of wild pink marshmallow flowers, swarming with humming, hovering insects.
"The thing I love is that there's something new to learn every day," declared Fairchild, pointing out a gulf fritillary butterfly.
By Colin McCandless