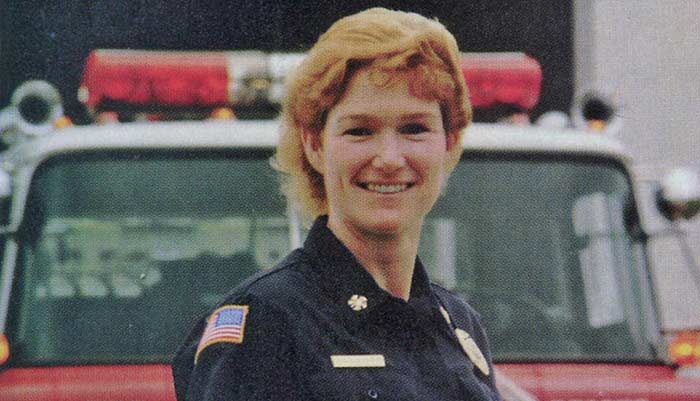 Previously Published in East Cooper Magazine Circa 1994
Isle of Palms Fire Chief Ann Corbett admits she's no torchbearer – she just loves her job and that's the way it's always been. "I've been told I'm the first female chief in South Carolina and the Southeast," she says, and that she is, but she'd rather focus on future goals in the department. "I'm not really into that kind of thing."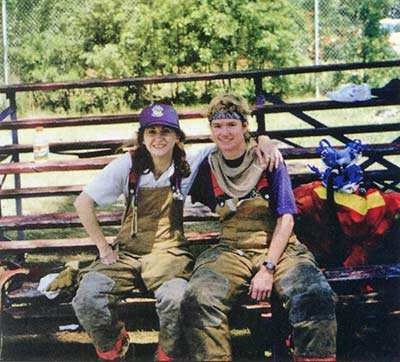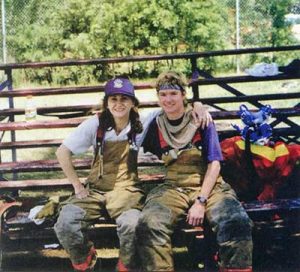 Fueling her achievements is a desire to be a part of the action, which captured her imagination as a teenager growing up on Sullivan's Island back in the 1970's. "I had some friends in the Charleston Emergency Medical Service and fire department on Sullivan's Island," recalls Corbett, who graduated from Wando High School in 1978, "and they would tell me stories about some of the calls they went on and made it seem really exciting, saving people's lives." Eager to join as a volunteer with the Sullivan's Island Fire Department, Corbett would ride along at any opportunity on water rescues, house fires and medical calls just to be part of the excitement, gaining hands-on experience to possibly be accepted as a volunteer.
For two years she persisted, yet there was some resistance to her becoming the only female volunteer, for she was repeatedly overlooked as a candidate for volunteer. No stranger to opposition, Corbett, the scrappy middle child of an Air Force combat controller, with two older and two younger brothers, knew she would have to prove herself. "When you're in the middle, you have to fight for your position."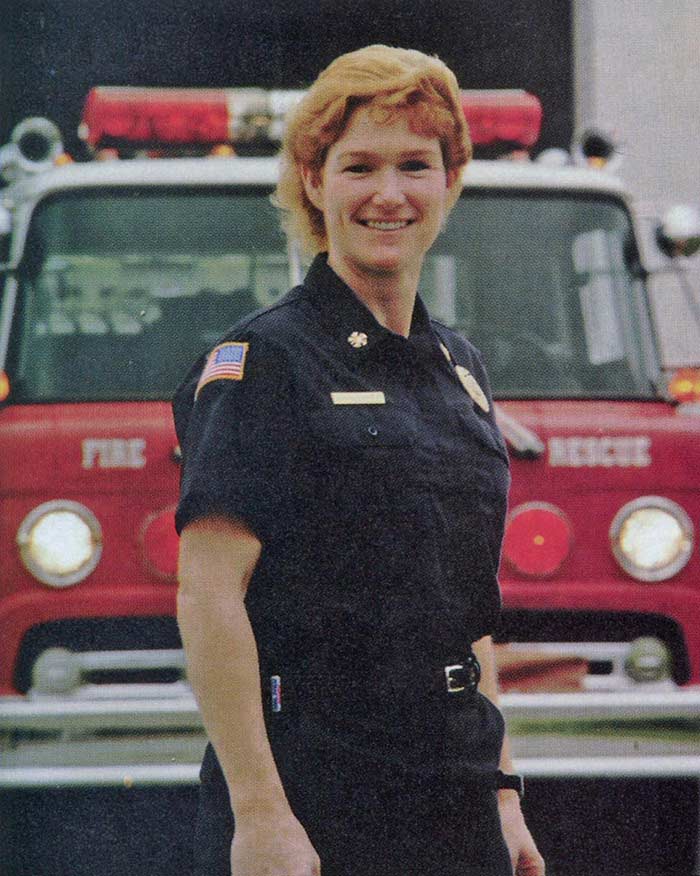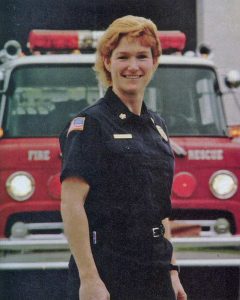 Finally in 1980, after going in front of the group at Sullivan's Island department once again, she was accepted as an official member of the volunteer squad by a new chief who said, "We need all the help we can get," as she was welcomed aboard. From there she began official training and accumulated more experience on both the Sullivan's Island and the Isle of Palms departments.
One of the more memorable emergency calls Corbett answered was from a woman in labor who insisted her baby would arrive before the ambulance could get to the hospital. Contrary to the driver's insistence that the baby could wait, the woman was right, and as the ambulance sped along Interstate 26 at 60 MPH, Corbett delivered the healthy baby. "That was the first time I ever did it, and I thought, hey this is neat! It was extremely exciting – this perfect little baby," says Corbett, who would later help to deliver another baby on call.
By 1994, Corbett had proven through her exceptional skills and serious devotion to the department and community on the Isle of Palms she was worthy of becoming chief. Her rise through the ranks was completed with no exceptions and plenty of determination and enthusiasm. Corbett now lives in Mt. Pleasant with daughter Jamie, 15, who attends Wando, and son Josh, 10, a Sullivan's Island Elementary student. She feels she is right where she wants to be and doing exactly what she has always aspired to do. "I can't imagine being anywhere else," says Corbett from her office at the J.C. Long station on the front beach sector of the Isle of Palms. "The Isle of Palms is a fantastic place to work, a great place to be; the people we work for are great to us and the citizens are wonderful. They seem to appreciate the department."
As chief, Corbett leads the full-time 19-member squad in addition to five part-time employees and a 15-member volunteer squad. "The guys on shift work 24 hours on and 48 hours off," says the Chief. "I work a more normal schedule now from eight to five, but of course I'm always on call." According to Corbett, "We have four pumpers, a ladder truck, squad truck which runs medical calls, two boats, a waverunner and a four-wheeler vehicle for medical calls on the beach."
Small island lifestyle doesn't give rise to much of the action-packed prime time images we've been fed through television shows like "Bay Watch" or "Rescue 911", but the department keeps itself busy. "We get calls for the strangest reasons," says Corbett. Aside from the usual fire and medical calls to find missing children on the beach, they've run snakes out of garages and responded with the ladder truck to help EMS get incapacitated patients out of their three-story homes. "We run a lot of water missions, we have a few wrecks a year and we're the pilot project for Charleston County with the defibrillator project," she adds. The defibrillator unit has already saved one man's life who arrived at the station in full cardiac arrest.
Chief Corbett's philosophy for succeeding is a simple one: "You first have to have an interest in helping your community; that's a basic necessity. You work your way up. You stick with it, and you do a good job."