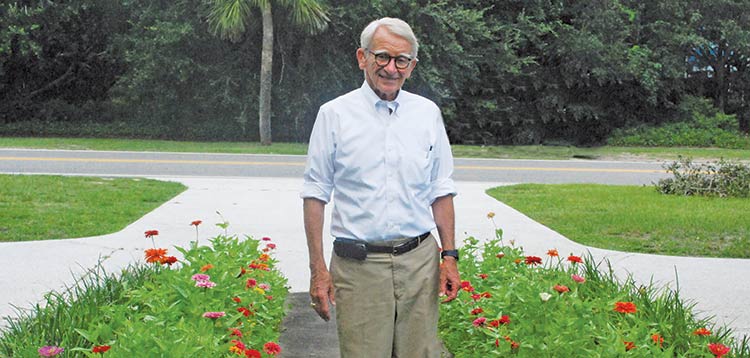 It would be difficult to find a person whose Charleston roots run deeper than those of Joseph Patrick Riley. Serving as mayor for four decades, he left behind a legacy of excellence and a baseball stadium named in his honor when he retired in January 2016. But during his 10 terms in office, and for many years before and after, Riley had a home away from home on a tranquil barrier island east of the Holy City.
One of four children – he is the only son – Riley's parents lived in Charleston. However, his father purchased a small, two-bedroom home on Isle of Palms before Joe was born, and the family would retreat to the beach as soon as school was out, returning to the Charleston peninsula when it was time to go back to learning about reading, writing and arithmetic.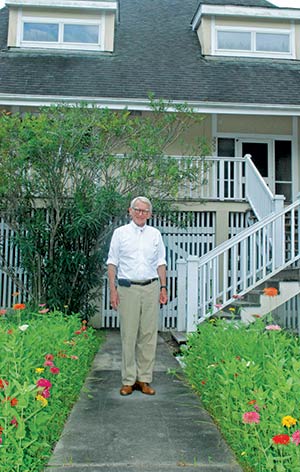 In the early 1950s, the Rileys accommodated their growing family by building a larger home on the island, a four-bedroom house at Carolina Boulevard and Eighth Avenue.
Joe and his wife, Charlotte, carried on the family tradition, buying a lot on Palm Boulevard in 1966 and building a home, which they still own, six years later.
"Lots were inexpensive then. We paid $7,500, and the value of the lot appreciated from 1966 to 1972, so we were able to get a 100-percent loan to build the house," Riley explained.
The Rileys never lived in the house on the Isle of Palms year-round. As they have done for more than four decades, they rented the home on a weekly basis in the summer and for nine months in the off season. They have always occupied the home from the end of July until Labor Day.
Though they resided on the island for little more than a month out of the year, Riley considered it to be their home.
"We planted flowers in the flower bed and kept up the yard. We furnished it as our home, not as a rental property because it wasn't a rental home. It was a home we rented," the longtime Charleston mayor explained.
Riley has fond memories of his time on Isle of Palms, especially when his sons, Joe and Bratton, were young. He remembered that it cost a quarter to launch a boat at the IOP Marina but that there was no one there to collect the 25 cents – just an honor box.
"It was an idyllic time," Riley said. "We would get up early, buy three Honey Buns and take the boat out. We knew every creek on IOP, Goat Island, Dewees Island, Capers Island and Bulls Bay."
He added that they would go shrimping as a family, inviting Charlotte to join them as well.
Riley's excursions with his sons were not limited to weekends and holidays.
"Every day when I came home from work, I'd change clothes at a record-breaking pace, and the boys and I would swim in the ocean. We had the best time," he said.
Isle of Palms has seen enormous growth and immense change, much of it brought on by Hurricane Hugo, in the past 70 years. Riley said his parents knew every family on post-World War II IOP.
"The beach is still beautiful, and the creeks are as well," he said. "There's more people now, and you have to deal with that. It's selfish to expect things to remain as they were. It's not realistic."
As mayor of Charleston, Riley played a role in the growth of Isle of Palms, working hard to make sure the Isle of Palms Connector would be built and speaking at its dedication in 1993. Construction on the bridge, which spans the Intracoastal Waterway, connecting Mount Pleasant with the island, began in 1990, the year after Hurricane Hugo swept through the Lowcountry, destroying everything in its path, including many Isle of Palms homes and businesses.
Until the Connector was built, the only way to reach IOP by car was through Sullivan's Island.
"As mayor of Charleston, I had a regional responsibility," Riley said. "As the mayor of the largest city in the region, it was my job to help promote the entire community's success."
Riley, who began his first of 10 terms as mayor of Charleston in December 1975, turned 74 in January 2017. He still takes walks on the beach that has served as a playground for his family for more than 70 years.
"I loved IOP then and I love it now," he commented. "I spent part of every summer of my life on Isle of Palms."