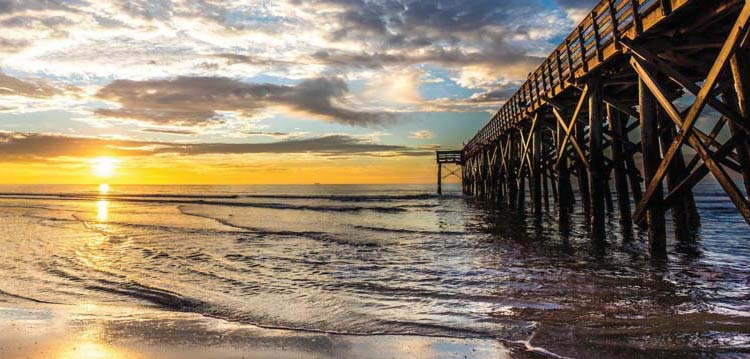 On Aug. 21, 2017, astronomers, space nerds, scientists and fellow stargazers will have a reason to rejoice. A total solar eclipse…
I remember as a child lying on a blanket on my Florida lawn, looking up at the canopy of stars that shined millions of light years above my head. Spotting Orion's Belt and the Big Dipper, I marveled at the way a whole other world existed far from the one I encountered daily. I still make it a point to venture out to my backyard dock to catch a glimpse of the moon – effervescent, round or at times a faint crescent sliver but always fully glorious.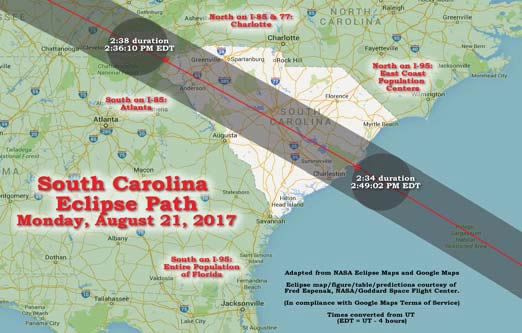 On Aug. 21, 2017, astronomers, space nerds, scientists and fellow stargazers will have a reason to rejoice. A total solar eclipse will be making its way across the United States, with Charleston as its last stop. The celestial occurrence is like a roaming rock star, setting out on a oneday farewell tour, all to the delight of enthused crowds – fans in different cities anxiously awaiting her grand arrival.
"I am actually ridiculously excited about this eclipse," said Laura Penny, a professor in the Department of Physics and Astronomy at the College of Charleston. "When I started as a professor here at C of C in 1997, I remember seeing this eclipse path and thinking how far in the future it was but how cool it would be. It's so rare to be in the path of totality, and to have it happen right here where we live and work is amazing."
Isle of Palms officials recognize the wonder that this day will carry and have joined with local hotels and businesses to make sure this momentous occurrence is memorable for residents and guests. The public has responded enthusiastically to the city's "Get Eclipsed" campaign, contacting hotels to make reservations and secure their spot to catch a glimpse of this remarkable sight. The Seaside Inn, a 51-room boutique hotel, has already been booked solid since December 2016. The rooftop pool and spacious sundeck that overlooks the Atlantic Ocean is the perfect spot to watch the eclipse as it rolls into Charleston, with a total eclipse occurring at 2:46 p.m.
This will be the first total solar eclipse to touch the continental United States since 1979 and the first to cross from coast to coast since 1918. Getting a start in Oregon around 10 a.m., the projected path of the eclipse will take it clear across America and conclude with a stop in the Lowcountry.
"Having people come to Charleston to see the eclipse is great for the region," said Penny. "I think it's fantastic how IOP has really been so proactive coming up with an eclipse plan."
Partaking in this skywatching is ultimately going to have a "Where were you when" aspect to it, where people reminisce about just what location they camped out at to get a look at this rare sight. For one afternoon, we will join together as skywatchers and observe the intrinsic dance of the cosmos.
When you look at the eclipse, make sure to wear protective glasses to prevent damage to your eyes.
"The students who are majoring in physics or astrophysics are part of our big eclipse day plans, so they are very pumped about that day," said Penny. "They're already doing visits to schools and other groups about the eclipse. The students who are taking Introductory Astronomy are mostly surprised to be in the right place at the right time. But, yes, I think they're pretty excited as well."
Many hotels are offering elaborate packages to those looking to have an unforgettable cosmic experience in the Holy City. Helicopter rides and champagne lectures are just some of the extra perks being touted in coordination with this natural wonder.
"We will all be working on that day," said Penny. "Our plans right now are to have 20 locations where we will have astronomers, telescopes and solar projectors. We decided about a year ago that one location would create tremendous traffic and crowd issues. You really can be almost anywhere and see the eclipse, so why would we squeeze a crowd into one place?"
Before this stellar force rolls into Chucktown, she will make her way through Greenville, Columbia and Sumter. After leaving us, she will conclude her tour in the quaint fishing town of McClellanville. The last bit of American soil she hovers above will be an isolated beach on a barrier Island within the Wildlife Preserve of Cape Romain.
No matter how versed you are in matters of astronomy, we can all agree there is always a bit of magic that resides up above. No matter where you choose to take in this awe-inspiring sight, we hope you do so with a sense of childlike wonder. It's not every day we get two breathtaking sunsets that will transform the sky into rich shades of pink and peach. See the universe change right before your eyes, covering the land in darkness and mimicking nightfall in the late afternoon. On a summer day like this, where the solar system acts out of character, anything is bound to happen. It's a reminder to perhaps take a much-needed risk in your own life and never forget to look up.
By Kalene McCort