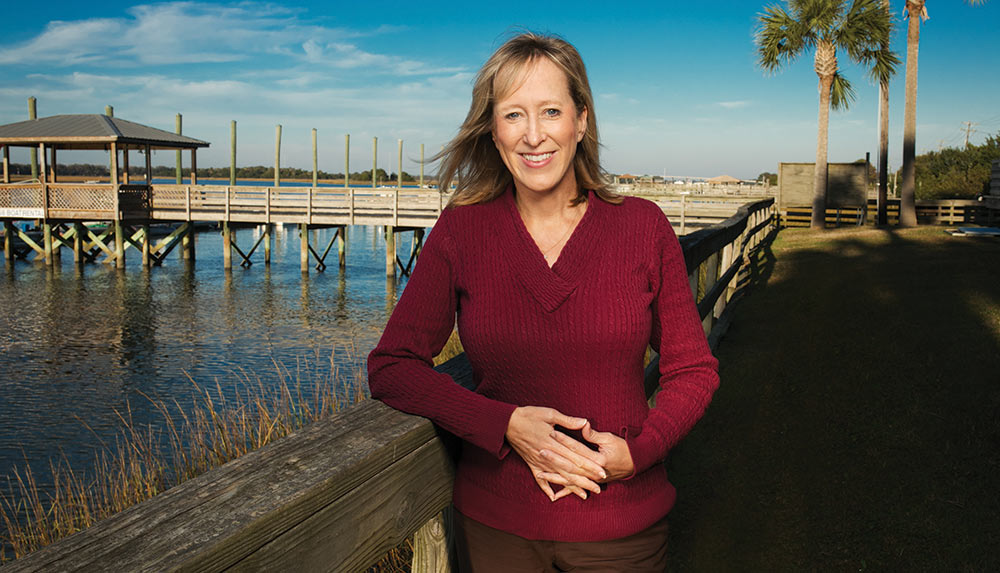 Susan Hill Smith has written about the Charleston area's barrier islands and volunteered her time and talent with a variety of educational, recreational and charitable organizations. Now she's about to play a leading role in determining the future of the town she has called home for 23 years.
In her first-ever political campaign, Smith was elected to a four-year term on the Isle of Palms City Council Nov. 7, finishing first among 11 candidates.
"It's nice to know that I had support from all sections of the island," said Smith, a journalist who grew up in the Atlanta area and moved to Isle of Palms with her husband, Mic, a professional photographer, in 1994. "We were incredibly fortunate to raise our children here. It's a magical place."
Her resolve to serve as a voice for families with children provided at least part of the impetus for Smith to seek a seat on the Council. She pointed out that no member of the previous Council – and none of the other 10 candidates – have children under the age of 18.
"Families play an important role in protecting the residential nature of our community," she said. "It's important for families to be engaged in the community. That was a big piece of my platform."
The Smiths have two daughters and a son and have had a child at Sullivan's Island Elementary School for 13 consecutive years. Her volunteer experience includes work with the school's PTA board, as well as with the Laing Middle School Improvement Council, the Wild Dunes Dolphins Swim Team Parent Board and the Charleston Animal Society. She has been a Girl Scout troop leader and vacation Bible school volunteer.
Smith is confident that her background in journalism and communications will be an asset as she strives to "be as productive as I can and make an impact." She has written for The Herald in Rock Hill, South Carolina, The Post and Courier, SiP Magazine, Charleston Magazine, South Carolina Living and The Island Eye News and has also done freelance and contract work for various health care-related organizations.
"I realized I had a great skill set to offer," she said. "Being a good communicator is huge for this type of role."
Smith cited a few issues that will need immediate attention from IOP's new mayor and Council. She said work will continue on drainage and ditch maintenance projects and that the city's parking situation must be addressed. Currently, IOP owns two front beach lots, where residents who have a parking decal can park for free. Beach-goers also can buy a pass or pay by the day to park in the county lot.
"Free parking on Palm Boulevard adds to the traffic problem because people are searching for free spots," she pointed out.
Smith said she favors charging drivers to park on Palm Boulevard, possibly using a smartphone app rather than installing kiosks, as is the case along Front Beach.
Another issue Smith would like to consider is having enough money in reserve to deal with the effects of a hurricane.
"I'd like to see a financial analysis and look at what other beach communities are doing," she said.
And how does Smith feel about the fact that all the incumbents who sought re-election to the Council and the mayor's seat were defeated?
"There's definitely a feeling that it was time for a change," she commented.
Read About Jimmy Carroll