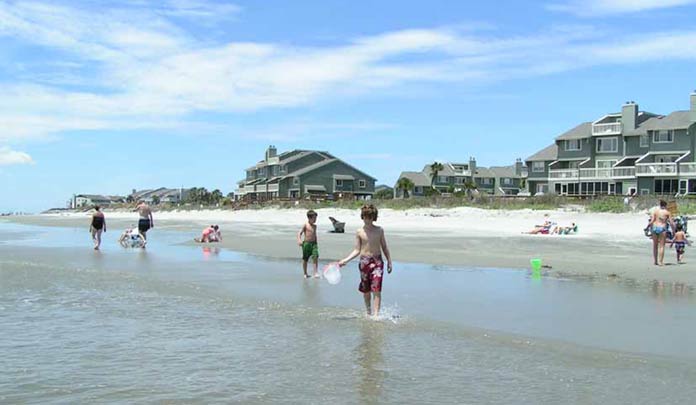 There's nothing like a family beach trip, and the four families we spoke to this year enjoy their time on the Isle of Palms each year for all the right reasons. From collecting shells to cooking meals to simply being together, the memories made on this shoreline last for years to come.
Photos courtesy of the families.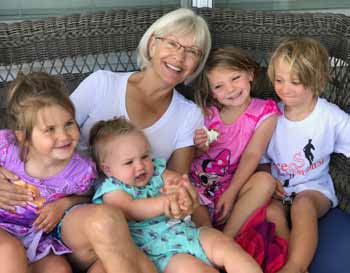 Mike and Toni Sieriej and Family
The Sieriej family has been enjoying their summer stint on the Isle of Palms for about 20 years – when the now grown daughters were just teenagers and the island was a very different place. Now, more than two decades later, the family continues to look forward to their traditional vacation, typically either the first or the second week of August, as a welcome reprieve from the reality of life.
"We've now been staying at the same house for about eight or nine years," said Mike Sieriej.
At home in Cincinnati during the last gasp of winter, it was clear that Mike and his wife, Toni, were more than happy to talk about the beach.
"We go with our two daughters, Natalie and KD, as well as their husbands and our four grandchildren, so there are 10 of us total. The babies have all grown up going to that house."
Traditions run rampant with the Sieriej clan during their week-long beach stay. On the first day, grandkids Thomas and Piper, 6 and 5 years old, respectively, hold hands and jump into the swimming pool at the house, screaming "THIS IS VACATION!" Cooking special meals together is another high point of the week, with the daughters' husbands focusing on their individual specialties of breakfast feasts and grilling out.
"I also make time to walk on the beach and catch up with each of my daughters," Toni added.
Though the whole family lives pretty close together, both Mike and Toni agreed the togetherness of the beach excursion is a different kind of camaraderie compared to simply being at home.
"We bought a new minivan recently, and, when the grandkids saw it, they got excited and said 'This minivan is for vacation!'" Mike recalled with a laugh. "They always look forward to it."
"We live near our daughters, but this is special," Toni agreed.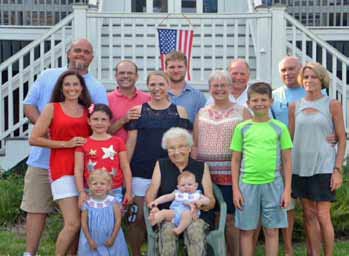 Linda Smith and Family
Linda Smith's family has deep roots on the Isle of Palms. Her parents bought a home on Cameron Boulevard in the early 1950s, and, even though they moved to Mount Pleasant about a decade later, the island was never far from their hearts. In the 1980s, Linda started vacationing on the island again with her mother, husband and children.
"The beach is still a wide, beautiful family beach," she said. "We have so many memories and a deep connection to IOP."
Traditions for the Smith family these days include renting a home over the week of Independence Day and decorating for the occasion. Other family members, from cousins to brothers, come over for the fun and the local seafood feast. After the party is over, Linda and crew like to put together puzzles on the kitchen table, facing the glorious view of the ocean.
"We have come back for years now to the same home," she said. "We started in a smaller rental, but the family has grown, and we moved to a larger home perfect for all of us!"
Linda feels that it is important for her own family to understand what it was like to grow up on the Isle of Palms – to hear the stories in the actual setting.
"It is important for our children and grandchildren to hear wonderful stories from their great-grandmother, grandmother and mother about living there, spending all day on the beach, taking a nap on stacked floats, learning about the creatures of the sea," she said. "We're hoping they love it as much as we do!"
Libby Goodwin and Family
Libby Goodwin's daughter began staying in Wild Dunes back in 2011, and the rest of the family followed suit soon after. After a few years in a "lovely home" on Palm Boulevard, the family decided to relocate to a home in Wild Dunes with an ocean view. They couldn't be happier there.
"This summer will be our third year in this house, and we can't wait," said Libby enthusiastically.
The Goodwin family, like most modern families, enjoys the reprieve that the Isle of Palms offers from their otherwise hectic schedules.
"We all live such busy lives that just having a comfortable home in a peaceful setting where we can enjoy uninterrupted time together is exactly what we were looking for," she explained.
"One of the best parts about vacationing on Isle of Palms is the slow pace and privacy of the beaches. You can choose to stay on the island and have access to everything you need, but you're also just minutes away from diverse attractions," she added.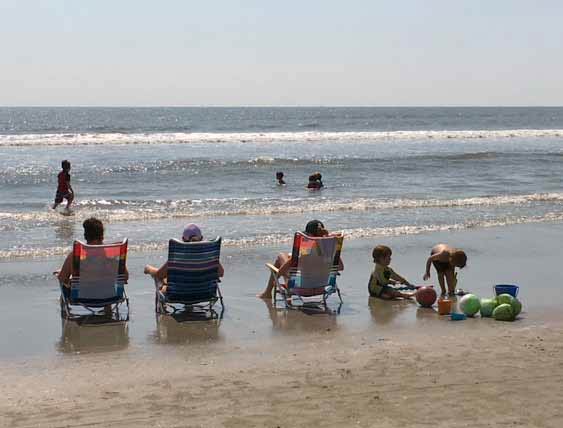 Katherine Walker and Family
The Walker family members come from all parts of North Carolina – Asheville, Durham, Charlotte and Chapel Hill – to spend time on the Isle of Palms each summer. A tradition that began five years ago for Katherine's 65th birthday celebration, it has blossomed into quite the family vacation that everyone looks forward to.
"The beach on IOP is the best," said Katherine. "Shallow water, gentle waves and spacious sand with tide pools. The grandchildren search for starfish. We fly kites, play soccer and bocci ball."
Making memories is one of the favorite traditions of the Walker family, grandkids included. Seashells, in particular, become relics of the time spent together.
"The grandkids collect shells, and we have made necklaces and bracelets and glued them on wooden initials for each child's name," Katherine said.
But it's not just the children who collect bits and pieces of the beach for later.
"One of my daughters-in-law makes a hardcover book with photos and comments and gives it to me each Christmas," Katherine shared. "I have four books now, and all I have to do is open one of the books and I'm back on IOP, reliving the precious memories. I can't wait for this summer!"