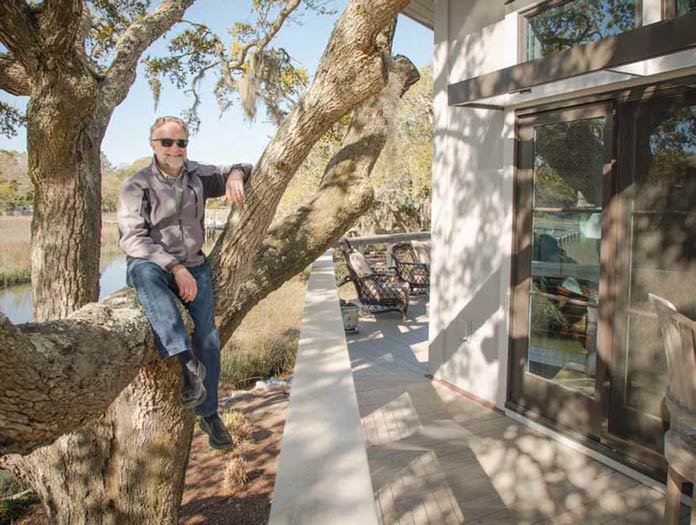 In the world of architecture, John Crouch has taken the road less traveled. For most of his career, he has worked for himself and his clients rather than for a large firm, and his decision to go it alone – for the most part – has given him the opportunity to take on meaningful, fun and somewhat unusual projects. In the past four decades, he has helped build a cheese factory in rural Kentucky, remodel a Lowcountry campus that twice stood at the crossroads of American history and put his fingerprints on several innovative homes and businesses in the Charleston area.
For the past 18 years, Crouch has been plying his trade from a cluttered office in his home in Isle of Palms. He and his wife, Janet, frequent visitors to the Charleston area, moved to the Lowcountry from Connecticut in 2000, fulfilling their plans to retire to coastal Carolina earlier than they originally anticipated.
"We finally said, 'Let's get the hell out of here before we need a walker,'" he explained.
Crouch decided that architecture would be his life's work when was only 13 and living in Ossining, New York, 30 miles or so up the Hudson River from New York City and the home of the infamous Sing Sing Correctional Facility. He escaped to Troy, New York, and earned his degree in Architecture at Rensselaer Polytechnic Institute, moved to Richmond, Virginia, spent three months living in Florence, Italy, and completed his apprenticeship in Bowling Green, Kentucky. At the age of 26, he was on his own as a registered architect.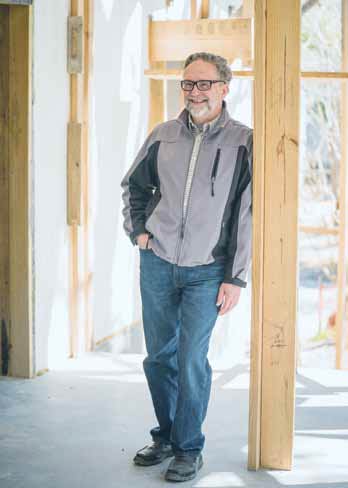 "I always wanted to work one-on-one with my clients. I didn't want to work for a big firm. It didn't matter if I was designing the White House or a doghouse. I enjoy figuring out needs and parsing through the process to provide a quality product," he said.
During his stay in Kentucky, in the early 1980s, he did the design work at a plant owned by a French cheese manufacturer, Fromgeries Bel, in Leitchfield. Since the scientist in charge of quality control was from India, his main partners in the project spoke three different languages – four if you consider English spoken in New York and English spoken in rural Kentucky to be two different dialects.
"It was a diverse group but a lot of fun," he said.
Crouch explained how he discovered a major issue that had to be resolved before the project could be completed.
"It takes a lot of water to make cheese. They would flush the plant, pipe the excess water up a hill and spray it onto the ground," he said. "I asked the scientist to test the water for E. coli. The readings were up and down, depending on the day of the week. That's when I realized there was a leak under the slab of the building."
When he asked to see the blueprints, he discovered that they were in French and in meters instead of feet or yards. Despite the language issues, the project was completed and Fromgeries Bel continued to produce The Laughing Cow cheese wedges and Mini Babybel waxed semi-soft cheese in Leitchfield, Kentucky.
Crouch and his wife eventually returned to the New York area, planting temporary roots in Stamford and then Old Greenwich, Connecticut. He worked part of the time with a firm and part on his own. When they moved to Isle of Palms, Crouch was with Cummings & McCrady, which gave him the opportunity to design restoration and other work at Penn Center, on 600-plus acres along Cowan Creek on St. Helena Island, near Beaufort.
Penn Center was established in 1862 by Pennsylvania Quakers who wanted to teach freed slaves life skills such as trades, math, how to run a farm and how to be a midwife – basically how to exist as free people. Early in the Civil War, the Union Army occupied Port Royal and freed as many as 10,000 slaves. The facility later was a vocational school. Today, "its mission is to preserve the unique history, culture and environment of the Sea Islands through serving as a local, national and international resource center," according to a lengthy report prepared by Crouch in 2009. At the time, he was on his own again, leaving Cummings & McCrady after a five-year stint there.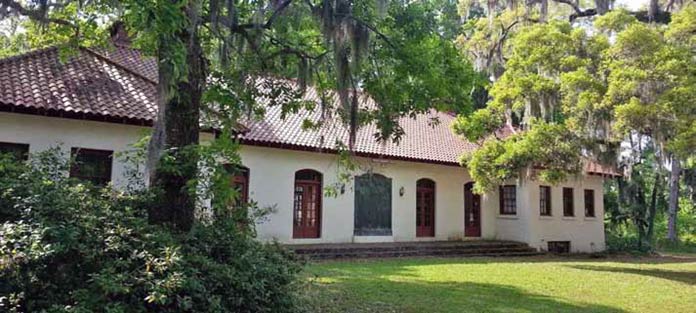 His work at the Penn Center included making the Frissell Community Center handicapped-accessible and restoring a dilapidated shed where slaves had learned the wood trades, the Jasmin Cottage and a dairy barn.
Penn Center played another key role in American history in the 1960s, when Dr. Martin Luther King Jr. and members of the Southern Christian Leadership Conference used it as a training site and as a retreat for strategic planning. Dr. King stayed at Gantt Cottage, and Crouch pointed out that plans have been completed for its restoration. He said the building will look like it did when Dr. King was alive.
"It's a great place in American history. It was one of the only places blacks and whites could meet together and not get shot," Crouch said. "It's a spectacular place and an underappreciated resource for South Carolina."
And what became of the planning guide Crouch developed for Penn Center nine years ago? Nothing yet, he pointed out, but he's hopeful that someday the report will be put to good use.
Crouch has designed several projects in the Charleston area. He added handicapped bathrooms, remodeled the sanctuary and added new electrical and plumbing systems at St. Phillip A.M.E. Church in West Ashley, and he was responsible for the recently-completed Workshop at Howard Heights on Riverview Avenue in North Charleston. The building, 5,000 square feet on the first floor and just under 3,000 square feet on the second, provides space for craftsmen, builders and designers to do their work.
Crouch also designs homes, such as a two-story house on Molasses Creek in the Hobcaw Subdivision in Mount Pleasant and a home currently under construction on Driftwood Lane in Isle of Palms that's made of insulating concrete forms, hollow foam blocks that are reinforced with steel rebar and filled with concrete. The 4,400-square-foot home, being built by Southern Structures, also has a concrete roof and groundwater-based heat pumps. It will be "incredibly energy efficient," according to Crouch.
Crouch designed another home facing the beach on Palm Boulevard in IOP on a lot that supposedly couldn't be built on.
"The lot was vacant forever. The city considered buying it for a park because it was unbuildable and because it was loaded with oak trees. But I built on it," Crouch explained.
"It's not an ordinary house," he added. "It has a two-sided balcony, two screened porches and an open party deck with a fireplace on top."
And John Crouch is not an ordinary architect.
"I wake up every day and still enjoy what I do after 41 years," said Crouch, who has two children, John and Janet, and a grandchild. "Every project is different. It keeps me interested. I've had a wonderful career."
By Brian Sherman