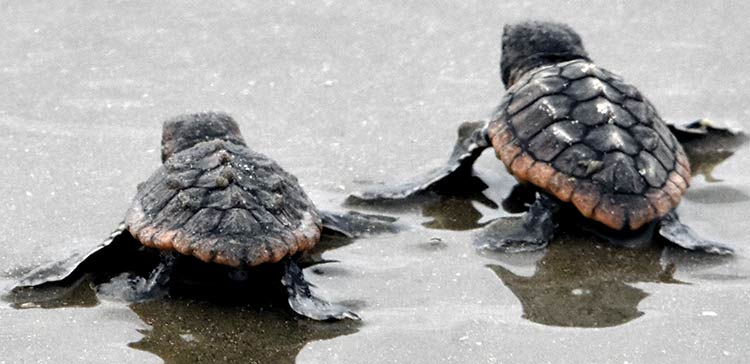 From early May to October, don't be surprised if you get a little more than you bargained for during your early morning beach walks along the Carolina coast. In fact, prepare yourself for the distinct pleasure of stumbling upon the tracks of a loggerhead turtle or the unique opportunity to watch a hatchling emerging in person.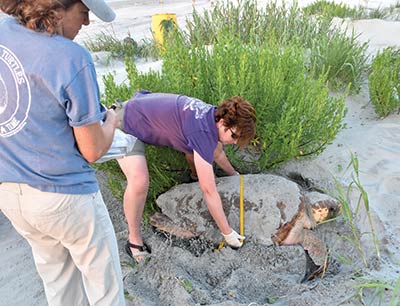 However, though these beautiful moments of happenstance with nature may seem like the perfect photo op, it's important to respect the turtles in their space throughout the nesting process. Thankfully, through the efforts of volunteers, groups and programs such as the Island Turtle Team, the Sea Turtle Care Center at the South Carolina Aquarium in the Charleston area and the Department of Natural Resources, these nomadic creatures are in better hands than ever before.
If you do happen to be walking on the beaches of Sullivan's Island or Isle of Palms one morning, you may find that you are not alone. Many mornings, volunteers from the Island Turtle Team can be found walking along the high tide line in hopes of finding sea turtle tracks – or, more importantly, nests. The point of these searches is not to marvel but to maintain an updated count of the nests and determine if they are safe. Barbara Bergwerf, who has been working with the Island Turtle Team for 17 years, has seen both triumph and disaster during her time protecting her turtle friends.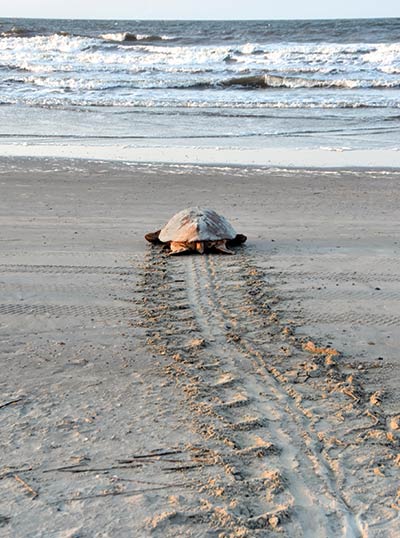 When the turtle nesting season was into its third month, Bergwerf reported that there had been "36 nests laid, with the first one found as early as April 30 this year, making it the first nest found along the whole East Coast, north of Florida." With this many nests, the numbers leaned toward an above average season.
Nesting
Female turtles often dig their nests at night, dropping their leathery, ping-pong ball shaped eggs into a 24-inch deep hole before returning to the ocean. The work of the 170 volunteers of the Island Turtle Team – one of 30 such groups throughout South Carolina – focuses on ensuring that the nests are sufficiently sheltered to give the eggs a chance to hatch. If, for instance, there is no dry land in the area – similar to the stretch of Isle of Palms where the tides sometimes are too high – there is a risk that the eggs will drown. At this point, volunteers work to relocate the nests to higher and drier areas of the beach.
When volunteers find a nest, they mark the spot, then wait 45 to 65 days for the hatchling turtles to make their presence known. If you see an unmarked nest, a nest being vandalized or an injured sea turtle, it is best to immediately contact the local police or the DNR's 24-hour hotline at 800-922-5431.
By Krysta Chapman