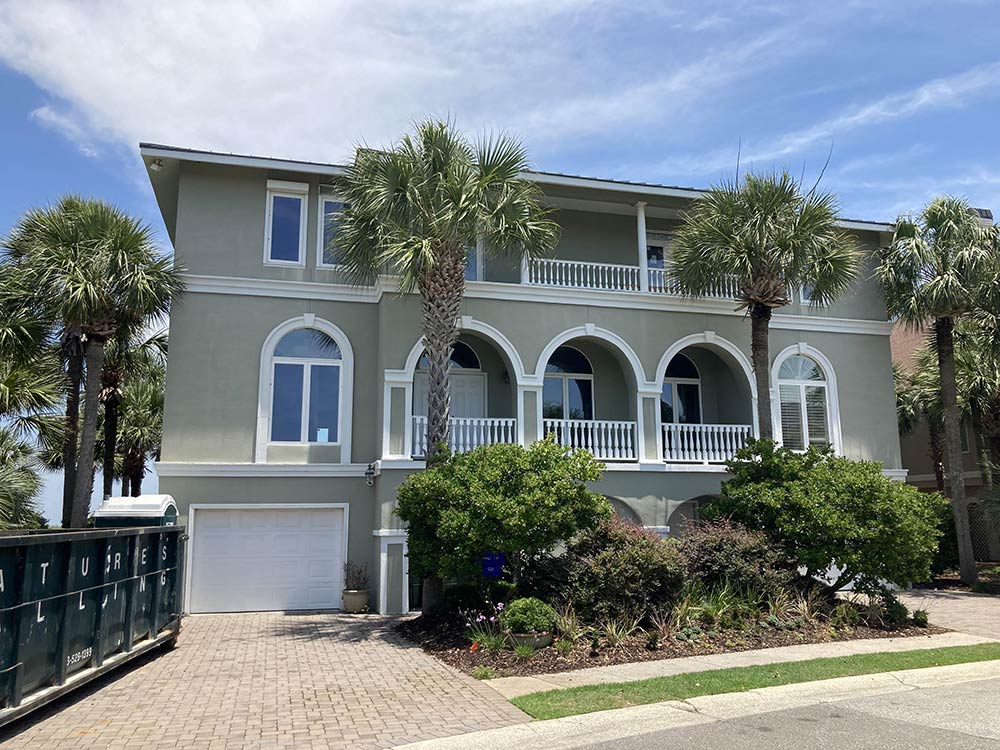 When Bill and Joanne Lehman purchased their new home in Wild Dunes, they were excited about the gorgeous beach views that came along with the extra space for their growing grandchildren. However, shortly after Lehmans bought the home on Ocean Point Drive, they realized that the bones needed serious repairs. During an inspection, they discovered extensive water damage which led to an infestation of every carpenter's worst nightmare: termites.
"We knew there was some work to be done, like an old HVAC unit that needed to be replaced. We knew that some of the windows were leaking and needed to be replaced. We had no idea the extent of the damage to the house," Joanne explained. "The whole project has snowballed."
To repair and refurbish their home, the Lehmans hired Lowcountry Contractors. An aluminum roof, new stucco walls and new doors and windows would add to its charm once the home was completed. Owner Jeremy Blackstock explained, "it's a beautiful piece of property, but it needed some love."
"We work on termite-damaged homes all the time, and we actually work with entomologists in the area that have done a great job of training our staff, so we know what to do and what to look for. We have made it key to not just fix termite damage, but to work with people who know what they're doing so we don't make mistakes while we're doing it," he added.
Jeremy Willis, assistant project manager at Lowcountry Contractors, explained that the house's major issues are water and termite damage, window replacements and stucco repair.
Willis said, "The front wall and the back wall had to be completely rebuilt because of water damage. The roof had to be replaced because of water damage, so it'll have all-new bluish-green stucco. We are adding all-new hardwood floors and redone bathrooms, and we will redo the carpet as well."
Although the Lehmans are preserving most of the interior design, the bathrooms needed a facelift. Interior designer Katherine Brickell is working with the Lehmans to renovate their bathrooms. "It's beautiful; it has a very functional floor plan overall. They just needed some help updating the fixtures and finishes to modernize it. We went into the space with the intention of making the bathrooms feel very clean and spa-like," Brickell said.
Joanne Lehman described her positive experience working with Lowcountry Contractors as they began the lengthy project on her home. "They are a great group. We have used the interior designer, and the project managers have been super. They are very good at giving me constant feedback and updates. We have the project manager on speed dial – they are great for taking calls whenever we need them."
So far, the house is in the beginning stages of repair. Starting in this issue, Mount Pleasant Magazine will cover the beginning, middle and end of the renovation. Pick up the next two editions to follow along for parts two and three of "New Bones, Old Style."
By Allison Sherman